Understanding XL Hopper Tank Designs for Dry Bulk Storage
Understanding XL Hopper Tank Designs for Dry Bulk Storage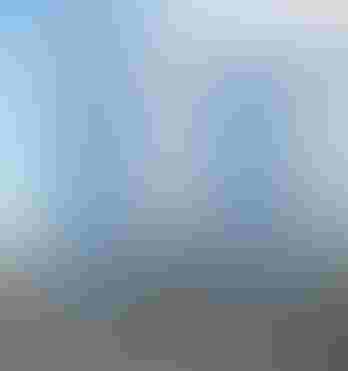 click here to view full image
The use of shop-welded steel hopper tanks is common in dry bulk storage applications. Typically, the average size shop-welded tank used to store bulk materials will range from 3500 to 7000 cubic feet per unit. In select applications, shop-welded hopper tanks can exceed capacities of 10,000 cu ft of storage. With many dry bulk applications requiring storage capacities ranging from 100,000 up to 2 million cu ft of storage, the selected product of choice turns to the XL category for bulk storage. The XL hopper tank is a designation for bolted and field-welded steel tanks that typically store significant volumes of material in excess of shop-welded tank capacities.
    Typical client requirements in XL storage applications include:
• Total protection of stored material
• Minimized degradation and segregation of materials
• Reliable discharge of material from the storage tank
• Low tank maintenance requirements
• Trouble-free consistent service

Typical tank parameters under review:
• Does the application require a heavy or light tank design?
• What discharge and flow pattern are required (i.e., active, passive, fluidized, mass flow, funnel flow, or expanded flow)?
• What level of tank quality is required?
• What internal and external coating systems are appropriate for the application?
• What are the parameters (i.e., construction process utilized, applicable labor conditions, safety record, training, certifications, EMR rating, etc.) identified for a successful field installation?

    Match the client requirements with the appropriate tank parameters and available budget, and the selection of an XL steel hopper tank design is narrowed for review.

Table 1

A breakdown of XL hopper tank designs depicts steel tank construction ranging from light to heavy designs. (Ref. table 1) When we review the available storage tank designs in greater detail, there is a history associated with each product:

Field-Weld Hopper Tank Construction
This product represents the heaviest design in steel hopper tank construction. Field-weld construction is typically fabricated in large pieces and shipped to the field where component pieces are welded together. The product quality is high, as represented in material plate thickness and the quality of the joint connection, which is welded. By virtue of its welded tank construction, this product represents a leak proof design. The negative factor associated with field-welded construction is the installation cost in the field. Typically, field welded tanks require a field installation timeframe three times that required for bolted tank construction. This equates to increased field installation cost and extended timelines for project completion. Additionally, field applied coatings add to an extended field installation timeframe. Field-weld tank construction represents high quality storage, but it also commands the highest installed cost in the field.

Bolted RTP Hopper Tank Construction
This storage product represents the top performance bolted storage tank design selected in the industry today for dry bulk storage. RTP (rolled, tapered panel) is a designation for the type of panel components utilized. Unlike the older bolted tank designs that utilized flanged panels assemblies that had a history of leaking, the RTP panel is a precision panel design that does not leak or develop leaks in the field. The RTP design is a heavy, robust tank design that utilizes sidewall thicknesses up to ½-in. plate. This product also utilizes the latest in advanced powder coating technology to fulfill client requirements for "stored material" protection and low maintenance requirements. Additionally, this type of construction is typically installed with a specialized jacking process that allows field-construction crews to install tanks at grade level. Bolted RTP tanks represent high-quality construction, heavy tank designs, advanced protective coatings, and today's technology for safe field construction. In comparison, this product will install in the field in one-third the time required for field-weld tank construction.


API 12B Hopper Tank Construction
This product represents an older flanged panel tank design that evolved out of the "oil patch" territories in the early 1900s. This product was eventually utilized for the storage of grains and plastic pellets. In the storage of heavier bulk density materials, the bolted flanged panel tanks were limited in size. When utilized in larger hopper storage applications, the product developed a history of continuous leak issues, mainly with the flanged panel connections. To deal with this problem, a VFP (vertical flat panel) design was also developed, which basically removed the problematic flanged panel connections. API 12B designs are typically light design storage tanks that utilize a sidewall thickness up to ¼-in. plate. Numerous bent plate stiffeners are utilized to stiffen the shell and skirt design, basically using the same approach as corrugated tank construction. These tanks are still installed today using an archaic process of elevating installation crews in the air on scaffold planks. API 12B tanks have a history in dry bulk storage, but in XL applications, that history is problematic.

Corrugated Hopper Tank Construction
Corrugated tanks are common in the grain industry. In operations that require low process requirements, this tank design fulfills the client requirements for adequate stored material protection with a low installed cost. In comparison to other types of bolted tank construction, corrugated tanks will typically be 25% less in design weight. A decline in tank weight equates to a lower installed cost. The corrugation in the panels, lower safety factors, and numerous stiffeners are utilized in design calculations for this product. Corrugated tanks are typically limited to funnel flow designs, which is appropriate for free flowing grains and similar materials with light bulk densities.

    In today's market, there are a wide variety of bulk storage systems available, ranging from light commodity tank designs to heavy field-welded designs. Some storage products are designed to "stand the test of time," while others are designed for a limited service life. When specifying a dry bulk storage system, always select high-quality construction that will provide extended service life and require low maintenance. With the limited exception of storing light bulk density materials, tank designs selected for bulk storage should be robust. In all cases, the selected storage system should provide trouble-free field performance, which equates to total stored material protection and reliable hopper discharge interfaced with the process system.
    Bill Neighbors is president & CEO, Tank Connection (Parsons, KS). For more information, call 620-423-3010 or visit www.tankconnection.com
For related equipment reviews, articles, and news, visit our Storage Equipment Zone

Click here for information about International Powder & Bulk Solids Conference & Exhibition

 
Sign up for the Powder & Bulk Solids Weekly newsletter.
You May Also Like
---