Identifying a Pin Mill for Optimal Performance and Minimal Downtime
Identifying a Pin Mill for Optimal Performance and Minimal Downtime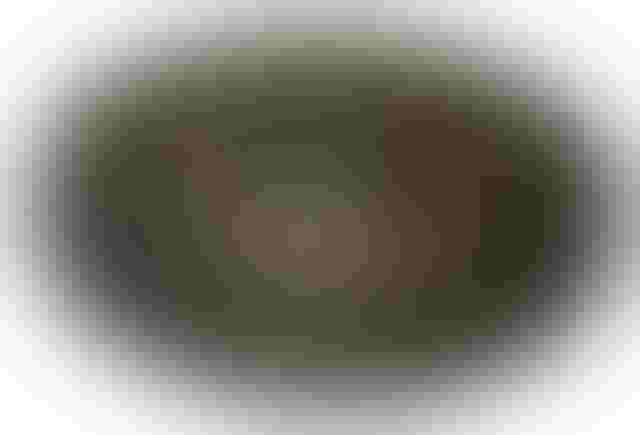 Figure B: A pin mill rotor with three concentric rows of pins which is used for aggressive milling applications
A pin mill reduces dry bulk materials to medium fineness by impact — that is, by hitting or striking particles with high energy to break them. As with any impact mill, the pin mill's components and surfaces are exposed to high wear and a challenging operating environment. The best way to combat these conditions is to select a mill with components and operating features customized for your application. The tips outlined here explain how you can specify a pin mill that will perform at peak levels with minimal downtime for parts replacement and repairs.
(see Figure A)
A pin mill is one of the most commonly used impact mills for grinding bulk solid materials to medium fineness. The mill can accept feed materials with a particle size ranging from 20 microns to 0.5 in. and a Mohs hardness of 4, reducing particles down to as small as 10 microns, depending on the mill type and feed size. This versatile machine handles a wide range of materials. Some typical examples are: herbicides, pesticides, fungicides, hydrated lime, trona, gypsum, sugar, wet corn slurry, food ingredients, chemicals, resins, and polymers. (For information on pin mill configurations, components, and operation, see the related sidebar "Pin Mill Basics")
By specifying the right components and operating features for your pin mill, you can not only optimize the mill to reliably grind your material to the desired fineness but reduce equipment downtime for parts replacement and repairs. This can help your mill yield a final product with a very fine or homogeneous particle size distribution, stand up to an extremely abrasive or corrosive material, or safely reduce a heat-sensitive material without damaging it.
Click here for information about the upcoming International Powder & Bulk Solids Conference/Exhibition
Your best source of help in specifying the mill is the pin mill manufacturer. A manufacturer with many years of experience in supplying units that can successfully handle tough materials and operating conditions, can help you determine what it will take to keep your pin mill running smoothly with minimal downtime. Before you specify the mill, it's always a good idea to have the manufacturer test your material in pilot mills equipped with different pin configurations and construction materials, components made of appropriate wear- or corrosion-resistant materials, and other options. Running the tests will typically require from 400 to 1000 pounds of your material, depending on the results you need. Contact your manufacturer's testing laboratory to make arrangements and schedule tests.
Once you have the test results in hand, you're ready to work with the manufacturer to specify a pin mill for top grinding performance with minimal maintenance downtime. Here are five practical tips for identifying a pin mill for optimal performance and minimal downtime.
1. Specify the Optimal Number and Arrangement of Pins
Selecting the ideal number of pins and the appropriate pin arrangement (typically in rows) for your pin mill discs can not only help produce the final particle size distribution you need, but help control the narrowness of that distribution to meet your product requirements. The right number and arrangement of pins can minimize material buildup in the mill during grinding, reducing washdown requirements and the associated downtime. Careful pin specification can also reduce the amount of heat generated during grinding, helping you avoid heat-related material buildup problems and softening or melting of heat-sensitive particles or other particle damage. Rely on your pin mill manufacturer's experience for help determining what number and arrangement of pins are best for your application.
(see Figure B)
2. Specify High-Quality Parts and Appropriate Options for Your Application
Any internal mill surface in contact with the material during grinding is subject to wear, and in a pin mill this includes the pins, the wear plate (that is, the disc surface on which the pins are mounted), the rotor, and the impact wall at the disc periphery. These parts can also be subject to corrosion if your pin mill handles a corrosive material.
Halting your grinding process to replace parts is costly; the lost production, maintenance labor cost, and parts cost can quickly add up. Choosing high-quality parts made of an appropriate wear- or corrosion-resistant material will reduce the replacement frequency and maintain your product quality while minimizing downtime and maintenance costs.
Wear Options: You can specify any of several construction materials for the pins, wear plates, and impact wall so they can resist wear and corrosion. Common wear-resistant materials include the following, ranging from those for less abrasive to more abrasive particles: mild steel, 40-RC (Rockwell C) tool steel, 60-RC case-hardened tool steel, chrome-oxide coated 60-RC case-hardened tool steel, chrome carbide, tungsten carbide coating, and tungsten carbide. Corrosion-resistant materials include Type 304 and Type 316 stainless steel and special deep surface treatments like Stellite and other coatings.
Manufacturers offer many component options that can help your pin mill resist wear. These include dual-plate containment rotors (for vertical shaft pin mills), which encase abrasive particles inside the rotor during grinding to extend the life of the mill housing surfaces; rotors that spin in both clockwise and counter-clockwise directions (also for vertical shaft pin mills), which can double the life of the mill's wear parts; heavy-duty bearing assemblies; and advanced bearing-lubrication systems that extend bearing life and also allow higher rotor speeds for finer final particle size distributions.
Washdown Options: If you need a pin mill with automatic washdown capability for fast, frequent cleaning, the manufacturer can equip the unit with liquid-injection wash nozzles and a drain point and include instructions for setting up the washdown system.
Cooling Options: Some level of temperature elevation is to be expected when using a pin mill. As the internal rotor plate spins, often at high speeds, it generates air flow. The air flow faces drag resistance as it travels through the system resulting in an increase in mill temperature. Additionally, when material is processed through the mill the friction caused by the impact of the material against the pins, mill walls and liners can also increase the internal temperature. To minimize this temperature elevation water or glycol fed cooling features can be added to vulnerable areas of the mill. Sensors and thermal couples can be added to mills for real time measurements.
Control Options: By adding additional controls like variable frequency drive (VFD) to the pin mill it allows customers to vary rotor speed. This can help to control the distribution size of the output product if the feed stock has batch variation. It also gives you the option of processing different materials through the pin mill if they have variation in demand.
Pin Mill Application Example: Here's how a vertical shaft pin mill was recently specified for grinding a challenging material. Trona (sodium sesquicarbonate), a dry sorbent powder used for flue gas desulfurization in coal-fired power plants, is semi-abrasive and hygroscopic. In one power plant, the material was to be ground 24/7 in a pin mill for direct injection into the plant's flue stream, where the finely ground trona particles would absorb contaminants in the flue gas to mitigate air pollution. Grinding would increase the powder's surface area by 30 percent, reducing the amount of trona required for desulfurization and thus reducing the amount eventually sent to the landfill, reducing disposal costs. To handle this semi-abrasive powder, the pin mill was specified with chrome-oxide coated RC-60 case-hardened tool steel pins, a chrome carbide impact wall, and a dual-plate containment rotor. The mill was also equipped for automatic washdown so that any trona buildup could be easily and quickly cleaned out.
3. Order Wear Parts to Have on Hand to Reduce Downtime
Stocking spare wear parts such as pins, wear plates, impact walls, and rotors in your plant's maintenance department will save you time and money by keeping your parts replacement downtime to a minimum. Keeping parts on hand eliminates the time required for ordering parts from the pin mill manufacturer. While it's true that most manufacturer's stock critical spare parts for fast delivery to their customers, most of your pin mill's wear parts are likely to be specified for your unique application, so your manufacturer might not have all the parts you need for immediate delivery. Plan ahead and order parts before you need them.
4. Choose a Pin Mill Manufacturer with a Wide Range of Services
Look for pin mill manufacturers that offer a complete package of services from pre-purchase sample testing and consulting to engineering, commissioning, educational and training programs to remanufacturing services. It is also important to have good documentation with operating instructions and safety procedures. These services ensure that you not only purchase the proper pin mill equipment for your application, but also receive the ongoing support to ensure operators are well trained and using the equipment to its fullest capabilities.
5. Maintain Your Pin Mill for Peak Performance
Once your pin mill is up and running in your plant, the key to keeping it performing at peak levels without excessive downtime is to maintain it properly. Maintenance basics for your mill include regular inspection, lubrication, cleaning, and preventive service, and all of these procedures are outlined in the operations and maintenance manual that the manufacturer provided with the mill. Make sure that all mill operators and maintenance workers are familiar with the manual and follow the procedures outlined in it.
By becoming attuned to the pin mill's normal operation, these workers can also quickly spot symptoms like vibration or excessive noise and take steps to remedy the underlying problems before they affect product quality or cause an equipment breakdown. More help with diagnosing and solving operating problems is available from your pin mill manufacturer; most manufacturers have factory service technicians available 24/7 to provide troubleshooting support.
Pin Mill Basics
Pin mills are available in two basic configurations: horizontal or vertical shaft. In a vertical shaft pin mill, as shown in Figure C, stationary pins are screwed or bolted onto a stationary disc (called a stationary mill plate), which is located above a rotating disc (called the rotor). Pins are also mounted on the grinding rotor. In a vertical pin mill, two discs mounted with pins are oriented in a vertical plane: one disc is stationary and mounted on a swing door, while the other rotates. In both pin mills, feed material enters at the center of the discs, where centrifugal force causes the particles to accelerate outward toward the disc edges and pass through the pins on the discs. The exiting particles impact a stationary outer ring (called an impact wall) or liner, typically consisting of stator pins or a smooth or corrugated wall, which further reduces the particles. On the vertical shaft pin mill, milled material into the cone hopper, which is removable to provide access to the rotor and pins, and then discharged out the bottom of the mill.
(see Figure C)
Unlike many other impact mills, the pin mill operates without an outlet screen and thus isn't subject to screen-blinding problems. Washing the mill is also easier and faster than with many other size reduction machines, a benefit for sanitary and other applications that require frequent washdown. To help convey on-size particles out of the mill or to cool a heat-sensitive material during grinding, the unit can be equipped with an air system that blows air straight through the mill at rates from 300 to 1000 cfm.
Steven Bythrow is the Simpactor pin mill product manager at Sturtevant Inc., Hanover, MA. He holds a BS in Material Engineering from the University of Massachusetts Dartmouth. For more information, email [email protected], call 800-992-0209, or visit www.sturtevantinc.com.
Click here for information about the upcoming International Powder & Bulk Solids Conference/Exhibition
For related articles, news, and equipment reviews, visit our Size Reduction Equipment Zone

Click here for a List of Size Reduction Equipment Manufacturers
Sign up for the Powder & Bulk Solids Weekly newsletter.
You May Also Like
---