New Bag Palletizing Technology Making Companies More Competitive
New Bag Palletizing Technology Making Companies More Competitive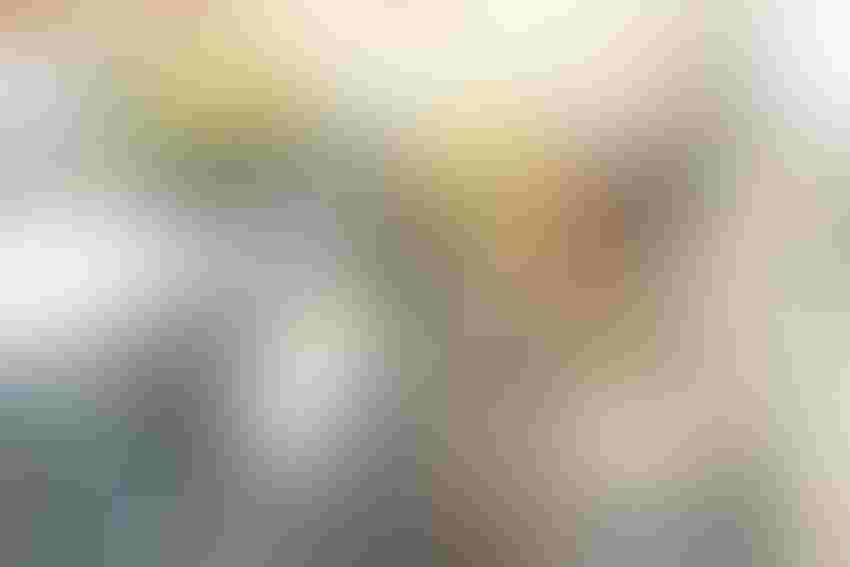 The BEUMER robotpac allows reliable, flexible palletizing of up to 1900 units per hour.
Anyone who has been on a trade show floor lately has seen the proliferation of robots for materials handling, including robotic and high-speed technology for bag handling and palletizing.
Advancements in bag palletizing technology are making manufacturers more competitive by reducing the total cost of operations and increasing productivity. From food and pharmaceuticals to chemicals and cement, the need to bag products from the sensitive to the robust with speed and accuracy is making robotic bag palletizing more of the norm. This is especially true in the United States, where there are a substantial number of older warehouses and factories in use with limited floor space for automated operations.
While robotic palletizing often is chosen for its compact design and smaller footprint, these systems have a throughput of 600 to 1900 bags per hour, and can handle 25-, 50-, and 100-lb bags of varying products, including chemicals, food, pharmaceuticals, minerals, cements, grouts, and concrete.
Technological advancements in these robots' end-of-arm (EOA) tool include an array of specifically developed gripper devices such as fork, double fork, and suction grippers that allow for greater flexibility, gentle handling, reliability, and a first-class stack quality for a variety of materials. Larger EOA tools can handle up to two 80-lb bags at once. However, larger robot arms require more turning time, therefore sacrificing speed. Larger EOAs also require more square footage on the production floor.
While primary and end-of-line packaging equipment such as conveyors and conditioners are not standard with a robotic palletizing system, these functions can be easily added to create a complete automated line. 
Increased accuracy and repeatability are major benefits of robotic palletizing when compared with manual operations. Error rates are much lower due to programming accuracies, and the quality of the individual packaged unit and pallet is much higher. Robotic systems offer energy efficiency and maximum accuracy for forming bag layers on pallets. They also are highly reliable even under extreme conditions.
Today's robotic systems can palletize load units of varying sizes on the same pallet, using gripping systems that can stack packages from above into available gaps. And simple changes of the packing pattern can be accomplished with the touch of a button or made fully automatic through barcode recognition.
For consumer brands, especially, the appearance of bags and pallets on the retail floor is critical to customer perception and increased sales. Precise, impressive stack formation is essential for wholesale warehouses such as Costco and BJ's that bring full pallets onto the sales floor for display, and for marketed brands that prefer their palleted products be taken directly to the retail floor, saving the cost of unpacking and merchandising.
High-Speed Palletizing Achieves Even Greater Speeds
Manufacturers requiring greater throughputs are choosing the latest technology in high-level palletizing, which achieves speeds from 1600 to 5000 bags per hour. End users of these systems typically are larger manufacturers with adequate space to accommodate a larger, integrated line.
While palletizing is the core component of the high-speed system, conveyors, turning devices and bag conditioning elements all are integrated into a complete automated line to optimize bag palletizing operations.
One trend that is appearing among a growing group of customers is the desire to purchase a complete automated line from a single equipment manufacturer. Companies are moving away from hiring integrators and engineering firms to piece together an automated system. This reduces procurement costs and helps companies achieve more efficient processes for maintenance and repair.
The primary advantages of the high-level palletizer are high throughput and a superior stack quality that comes from integrated conditioning features, which flatten and square filled bags for optimum stacking, wrapping, or hooding. These conditioning processes also make bags easier to handle.
Today's high-level bag palletizers can fulfill the requirements of any industry with the system's multi-program interface, which is able to accommodate all common packing patterns. Interfaces can be adjusted to the different requirements of the chemical, food and building materials industries.
For example, palletizing systems best suited for sensitive bagged goods, such as plasters, animal feed, and granulated materials, are programmed to operate in the lower performance range of 600 to 2500 bags per hour and are specially designed with a ventilated stacking table and coatings to reduce friction.
Palletizers designed for more robust goods, such as fertilizers and cement, operate in the range of 1800 to 5500 bags per hour and feature optimized turning devices such as clamp, twin-belt, and bar-type to achieve required bag patterns.
In addition to their ability to be programmed with precision, the latest editions of bag palletizers feature innovative drive systems that reduce noise and wear. Frequency controls and servomechanism technology also are incorporated into motors to save energy.
Saving Time and Money on Maintenance and Repairs
New technology in bag palletizing is addressing customer expectations of user-friendly systems that reduce downtime, increase production, and require minimal maintenance.
Interfaces on today's systems are extremely friendly for the operator. HMI graphics panels are continually improving for fast and easy changes in menus and recipes, and for better system management overall. And equipment manufacturers are offering standard and customized training to make certain that customer teams are qualified in operations and troubleshooting.
Interface controls also have advanced to enable flexible adjustments to changing conditions of use and to allow easy reconfiguration for frequent product changes.
Handling of maintenance issues has become easier, as well, with customer technical support available via VPN networks that can access computer systems online to search for and diagnose problems. Both robotic and high-level palletizing lines have been improved so that remote diagnostic tools are incorporated into the design of the system. Improved accessibility to system components also has made routine maintenance easier.
Customers are also looking for equipment manufacturers that offer 24/7 customer support, with stocked and readily available replacements parts and field service engineers that are accessible in a timely manner.
Timothy Bridge is a senior application engineer for BEUMER Group, with nearly 35 years of industry experience. Previously, he held technical roles at Garvens Mettler Toledo and Chronos Richardson. For more information, visit www.beumergroup.com.
For related articles, news, and equipment reviews, visit our Packaging & Bagging Equipment Zone

Click here for a List of Packaging & Bagging Equipment Manufacturers
Sign up for the Powder & Bulk Solids Weekly newsletter.
You May Also Like
---